Find below customer service details of Texas Workforce Commission. Besides contact details, the page also offers a brief overview of the state agency.
Head Office
Texas Workforce Commission
101 E 15th St, Rm 370
Austin, TX 78778-0001
United States
Customer Service
Phone: 800-939-6631 (general)
Phone: 800-628-5115 (complaints)
Phone: 866-274-1722 (employer support)
Email: [email protected] (general)
Email: [email protected] (complaints)
______
About Texas Workforce Commission
Unemployment benefits across Texas is administered by the Texas Workforce Commission (TWC), a state agency dedicated to helping workers and employers. Workers applying for unemployment insurance (UI) benefits must meet the eligibility requirements. They must have been unemployed for no fault of their own and must be actively seeking for work. If you had voluntarily resigned or was fired for misconduct, you might not qualify for the benefits. One of the key eligibility requirements also demand that your past earnings meet certain minimum thresholds. Before filing a claim, ensure that you are registered with the state workforce center, showing you have been actively seeking job.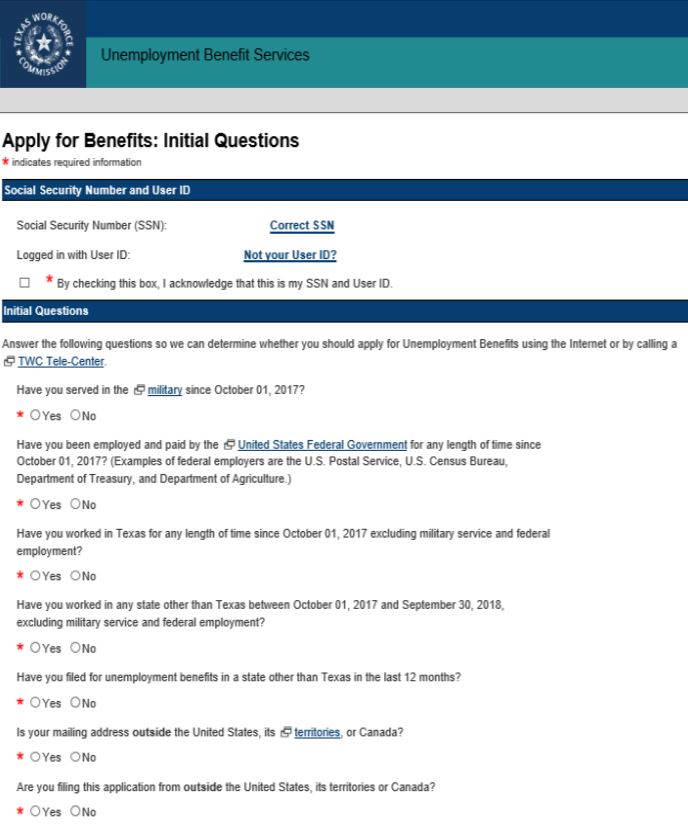 Application for unemployment benefits can be made online on the TWC website. You can also visit the local office for same. During the process, you will be asked for social security number, driver's license and past employment details, including number of hours worked, pay rate and employer's business name and address. If you are not a US citizen, you should have your Alien Registration Number. Your earnings during a one-year "base period" will be accessed before approving. The base period is the first four of the last five completed calendar quarters. There is a chart published on the website to help workers determine their base period. You must have wages in more than one of the four base period calendar quarters.
The benefit amounts are based on your past wages. TWC has the Benefits Estimator tool to help workers estimate their benefit amount. According to TWC, the minimum weekly benefit in Texas is $69 and maximum is $521. The website has resources and guides to understand the benefits, eligibility criteria, and others. Candidates can request a benefits payment directly from their account online. Benefits are available for up to 26 weeks. Workers can add and edit their payment information on the website. You have the option to receive benefit payments by direct bank deposit or by debit card.
For workers whose application was denied, TWC offers the opportunity to file an appeal. An appeal can be filed online, via phone as well as fax. Note that an appeal must be filed within 14 days after receiving the benefit determination. For complaints or queries on filing claim, appeal, payment, application status, or others, reach the TWC support.