Contact Bajaj Allianz Life Insurance: Find below customer care, support details of Bajaj Allianz Life Insurance, including phone and address. You can reach the below contact for queries on Bajaj Allianz Life Insurance policies, life insurance plans, health/medical insurance plans, auto insurance, policy status, customer login, premium payment, forms, branches, claims or other questions. Besides contact details, the page also offers information and links on Bajaj Allianz Life Insurance products.
Bajaj Allianz Life Insurance Head Office
Bajaj Allianz Life Insurance Company Ltd.
GE Plaza, Airport Road, Yerawada,
Pune 411 006.
Bajaj Allianz Customer Care
Reach the below phone if you are calling for Bajaj Allianz policy issuance or renewal
General: 1800-233-3355 (Toll Free)
BSNL: 1800- 233- 7272
TATA: 1800- 209- 7272
BHARTI: 1800- 103- 7272
MTNL: 1800- 22- 5858
Other: 1800- 209- 5858
Life Insurance
For Bajaj Allianz life insurance related queries use the below contact
Phone: (+91 020) 66026777
Fax: (+91 020) 66026789
Email: [email protected]
General Insurance
For Bajaj Allianz's general insurances contact
Phone: (+91 020) 66026666
Fax: (+91 020) 66026667
______
Complaint
Have a complaint…register it here
Locate Branch
To locate a Bajaj Allianz branch in India click here
Premium Online Payment
To pay your renewal premiums online click here. You can make the payment by cash/cheque/DD at nearest branch or can use your credit card (MasterCard/Visa). You can also pay through direct debit facility or through Electronic Clearance System. Besides, you can use net banking facility if you have account with Allahabad Bank, ICICI, HDFC, IDBI, Kotak, Corporation, UCO, State Bank of India or other leading banks. Click here to access the customer portal.
Bajaj Allianz Products
> Life Insurance – Unit Linked Plans (iGain III, Max Advantage Insurance, Wealth Insurance, Shield Insurance, Money Secure Insurance and more), Traditional Plans (InvestGain, SaveCare Economy, Life Time Care, Super Saver, CashGain, ChildGain), Term Plans (Protector, Term Care, iSecure Loan, iSecure More), Pension Plans, Women Insurance, Health Insurance.
> Motor Insurance – Car Insurance, Two Wheeler Insurance
> Travel Insurance – Travel Companion, Travel Elite, Student Travel.
> Health Insurance – Online Health Plans (Health Guard, Health Ensure, Extra Care), Regular Health Plans (Family Floater Health Guard, Personal Guard and more), Regular Health Plans (Tax Gain, Silver Health, Insta Insure, Hospital Cash and more).
> Property Insurance
About Bajaj Allianz General Insurance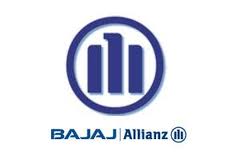 Bajaj Allianz General Insurance was established in the year 2000. The insurance company is a joint venture between Bajaj Auto Limited and Allianz AG of Germany. The company has an authorised capital of Rs 110 crores. Bajaj Finserv holds 74% and Allianz, SE the rest 26% stake. Bajaj Allianz has received iAAA rating, from ICRA Ltd. Bajaj Allianz Insurance has received the "Business Leader in General Insurance" award by NDTV Profit Business Leadership Awards 2008. Bajaj Allianz has made a profit before tax of Rs. 180 crores in the last four years. The company today leads in the private insurance sector.