Anyone from India who intends to immigrate for the purpose of permanent residential status or employment in a foreign country needs to obtain a lot more than just a flight ticket or a visa. Among others, one essential document that is imperative is a Police Clearance Certificate (PCC).
What is a Police Clearance Certificate (PCC)?
A Police Clearance Certificate is a legal piece of document that is issued to those Indian passport holders or passport applicants who intend to immigrate to a foreign country for the purpose of settling down permanently or for long term work commitments and it certifies the non-existence of criminal records against the applicant.
Supporting documents for applying PCC
The applicant should have a valid Indian passport as well as visa and it is essential to have his or her current address mentioned in the same. Apart from it, the applicant must have original copies of the following documents before proceeding for online application: proof of identity, proof of address, proof of birth, copy of employment contract, if applicable, certificate of marital status, and AADHAAR card (optional).
Procedure for application
Getting hold of a PCC has become fairly simple with the advent of online application facility at the Passport Seva Kendra online portal. In this article, the steps that need to be followed for obtaining a PCC in India through online procedure are outlined in brief: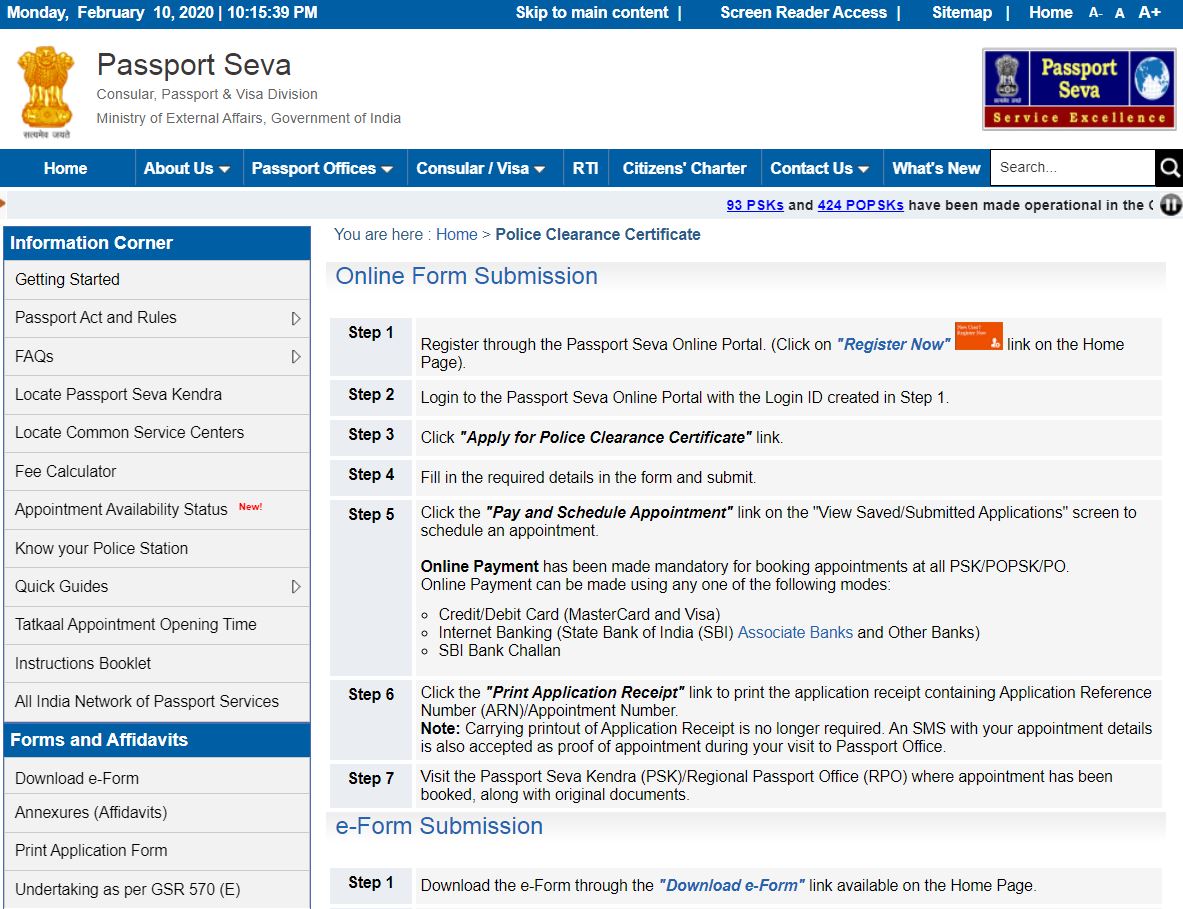 Register: An applicant has to first visit the Passport Seva Kendra online portal and register as an applicant by creating a login id.
Apply: On logging in, the option – Apply for Police Clearance Certificate can be clicked and all details including passport details and purpose for which PCC is required should be filled up before submission.
Pay and book an appointment: After form submission, there appears the option of online payment in any of the modes – credit/debit card, internet banking or SBI bank challan. A non-refundable fee of 500 INR is charged for a single application.
Print receipt: An Application Receipt Number (ARN) is generated that needs to be noted and produced at the time of visit to the respective Passport Seva Kendra office as scheduled. The applicant may choose the Passport Seva Kendra office of his or her own locality for the appointment.
 e-form submission
Alternatively, an applicant may download an e-form after logging in to the homepage of the portal. The initial step of registration remains the same but after filling up the e-form, the applicant has to proceed to validate and save it for generating an XML file as the system does not accept forms in PDF. There is a separate link to upload the e-form in XML format. The remaining steps are the same as mentioned above.
Special cases
Apart from pre-approved categories, there exists a provision for emergency or medical cases to seek immediate service at the Passport Seva Kendra. However, the discretion for providing such services lies with the officer in charge. For minor applicants below four years of age, passport size photographs with a white background need to be submitted.
The time for processing an application for PCC does not exceed 30 days and it is generally obtained sooner than that. Usually, an applicant shall have to visit the Passport Seva Kendra within 90 days from the date of application after which the application will lapse. During the visit, the applicant should carry all self-attested documents for verification. In certain states like Maharashtra, there may be a need for the applicant to have his or her credentials verified by the local police before being handed over the PCC.