Contact Thai Airways: Customer service, phone of Thai Airways
Contact Thai Airways: Find below customer care details of Thai Airways, including the phone and address. In addition to the contact details, the page also offers information and links on Thai Airways services. You can reach the below contacts for queries on new reservation, reschedule or cancellation, baggage assistance, credit of miles or other questions.
Thai Airways Head Office
Thai Airways International Public Company Limited
89 Vibhavadi Rangsit Road
Bangkok 10900, Thailand
Tel : (662) 545-1000
Thai Airways Customer Service
Tel : (662) 356-1111
Fax: (662) 356-2222
E-Mail : contact (at) service.thaiairways.com
Royal Orchid Holidays
Tel : (662) 628-2456-7, (662) 628-2457
Customer Relations
Building 6, 1th Floor, Head Office
Tel  :   (662) 545-4216,  (662) 545-4217
Fax  :  (662) 545-3841
E-mail : customer (at) thaiairways.com
Thai Airways Destinations
For a list of Thai Airways destinations click here.
Flight Status
To check flight status or schedule of Thai Airways click here – Thai Airways Flight Schedule
In-flight Services
For a list of in-flight services for Royal First Class, Silk Class, Premium Economy class and Economy Class passengers, click here
Thai Airways Offers
For offers on flight fares of Thai Airways click here
Frequent Flyer
On all Thai operated flights, for paid travel in most booking classes, you earn miles, plus additional class of service miles. For Thai flights less than 500 miles in distance, you earn a minimum of 500 miles. Click here to enroll for the program
About Thai Airways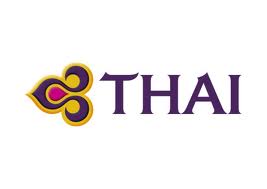 Thai Airways International was founded in the year 1960 and is the national carrier of the Kingdom of Thailand. The airline was born as a result of a joint venture between Scandinavian Airlines System (SAS) and Thailand's domestic carrier, Thai Airways Company.
Currently the airline flies to about 72 destinations in 35 countries, including Brisbane, Auckland, Johannesburg, Melbourne, Singapore, Los Angeles, Seoul, Moscow and Zurich. In the year 2009, it introduced Oslo, Norway as its 59th destination.
Thai Airways operates from its main hub at Suvarnabhumi Airport. Royal First Lounge, Royal Orchid Spa, Royal Silk Lounge and Royal Orchid Lounge are some of its popular Airport lounges.
Thai is a founding member of the Star Alliance. The alliance was founded along with Lufthansa, Air Canada, Scandinavian Airlines System and United Airlines. One of the airline's mandates is to "offer domestic and international air travel and related services that are safe, convenient, and of quality to ensure customer satisfaction and trust."
Recent Awards
2010
Best Intercontinental Airline in the Norwegian Grand Travel Award 2010.
Thai received Business Traveller Award 2009 for Best Ground Service and Best Lounges.
Thai won Skytrax Best Airport Services and Best Airline Lounge – First Class at the 2010 World Airline Awards.
2009
Thai was voted second for Best Intercontinental Airlines at the 17th Grand Travel Award Ceremony in Stockholm.
Thai voted second for Best Asian Carrier at the sixth annual Go Asia Awards.
Thai's Royal First Class Lounge at Suvarnabhumi Airport ranked the Best in Skytrax 2009 global survey of airlines.
Thai receives Best Caterer of 2008 Award from China Airline.