Contact of Emirates customer service (phone, email)
Contact Emirates: Find below customer service details of Emirates airline, including phone and email (as of October 2016). You can reach the below contacts for queries, complaints or feedback on reservation, payment, lost or delayed baggage, cancellation, missing miles or others.
Emirates Head Office
Airport Road – Marrakesh St Junction,
Al Garhoud Dubai, UAE
Emirates Customer Service
Phone: +971 600 555 555 (UAE)
Phone: +1 800 777 3999 (US)
Phone: 0344 800 2777 (UK)
Email: [email protected] (UAE)
Email: [email protected] (US)
Email: [email protected] (UK)
International Contacts
Australia: +61 1300 303 777
Argentina: +54 11 5355 1166
Bahrain: +973 1 654 8989
Brazil: + 55-11-47001516
China: 400 882 2380
Czech Rep: +420 239 016 320
Denmark: +45 38487000
Egypt: +20 2 3332 0555
France: +33 1 57 32 49 99
Germany: +49 699 451 92000
Hong Kong: +852 30713019
India: 022 33773377
Indonesia: +62 21 2934 5555
Ireland: +353 1 517 1600
Japan: +81 3 6743 4567
Korea: +82 2 2022 8400
Kuwait: +965 2 205 5155
Malaysia: +60 36 207 4999
Mexico: 01 55 4738 0444
Netherlands: +31 20 203 5163
New Zealand: 050 836 4728
Norway: +47 2231 0888
Pakistan: +92 21 352 03 377
Philippines: +63 2 792 6045
Portugal: +351 21 366 5533
Qatar: +974 4438 4477
Russia: 8 800 555 1919
Saudi Arabia: 800-850-0022
Singapore: +65 6 622 1770
South Africa: 0860 123 155
Spain: +34 912 757 792
Sri Lanka: +94 11 470 4070
Sweden: +46 8 5025 2111
Switzerland: 0844 111 555
Thailand: +66 2 787 3387
Turkey: +90 212 315 4545
Zimbabwe: +263 86 7704 4444
________
About Emirates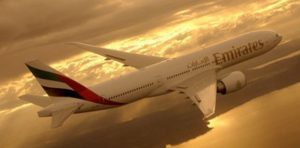 Based in Dubai, Emirates is the largest airline in the Middle East with 3,600 flights each week to over 154 cities in 81 countries across six continents. It has its hub at Dubai International Airport and is the fourth largest airline in the world in terms of both international passengers carried and scheduled revenue-passenger-kilometres flown. It is also the second largest in terms of freight tonne kilometres flown. In 2015, Emirates boasted of having transported close to 60 million passengers.
Emirates' fleet includes both Airbus and Boeing aircrafts, with more than 80 being Airbus A380. If you are a frequent flier, register for the Skywards frequent flier programme to earn reward points and redeem the same for new flights and other products. And at most airports, you should be able to find a dedicated Emirates Lounge available for members. If you need to register for the Skywards, you can do the same on the link here.
On the Emirates website, fliers can easily search and book flights. In addition to flights, you can book hotels, reserve cars, check-in for your flight online, know flight status, schedule and much more. Whether you are looking for top destinations, offers/discounts or information on food and beverage options, Emirates website is a treasure chest. If you are already have a reservation, you can make changes to your booking by signing into your account online. It is an easy way to manage your trip without reaching the customer service via phone or email. You can cancel, re-book, print itinerary, select seats or book meal on the Account page.
If you are always on the move, download the Emirates smartphone app to book or manage your reservation. You can even get details of flight and baggage restrictions. Baggage allowances depend on the class of travel. For destinations outside the Americas, Economy Class passengers can carry 30kg, Business Class passengers 40kg and First Class 50kg. For flights to and from America, fliers can carry 2 bags in all three classes, each weighing not more than 23kg for Economy class. You can read the baggage guide for accurate information on restrictions, bag dimensions etc.
Did you know, you can even book tours and activities in Dubai. Also, there is Dubai Connect for First Class and Business Class passengers who have long stopover in Dubai. Your meals, transportation and accommodation is covered under the service.
Top Destinations
Some of the top destinations covered by Emirates include Abu Dhabi, Adelaide, Amsterdam, Auckland, Athens, Bangalore, Bangkok, Buenos Aires, Beijing, Brisbane, Brussels, Cairo, Cape Town, Chennai, Chicago, Christchurch, Copenhagen, Colombo, Dallas, Delhi, Dublin, Doha, Frankfurt, Geneva, Hyderabad, Ho Chi Minh City, Hong Kong, Houston, Istanbul, Jakarta, Johannesburg, Kochi, Kolkata, Kuala Lumpur, Lahore, London, Los Angeles, Madrid, Manchester, Melbourne, Muscat, Mumbai, Moscow, New York, Paris, Rio de Janeiro, Riyadh, Rome, San Francisco, Seattle, Seoul, Shanghai, Singapore, Sydney, Toronto, Tokyo, Trivandrum, Vienna, Washington and Zurich.
Common Emirates Complaints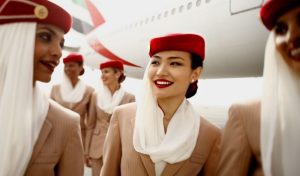 Customer complaints will find their way to you, no matter how meticulous you are. There is always room for improvement, and Emirates is no exception. The most common customer complaints has been with the customer service. From poor in-flight service to careless reservation desk, most complaints have to do with Emirates' customer service. There are those whose tickets are cancelled without intimation or the check-in counter simply doesnt make exceptions on baggage or won't admit errors on name.
The next undoubtedly is the loss of baggage. Many customers complain that their luggage was loaded onto planes heading to different places than they were, leading to confusion and harassment. Bad handling is also part of it. A large number of customers complain their luggage was mishandled by the airline, resulting in damage to fragile property stored in the luggage.
Then we have the booking problems. A large number of complaints focus on the non-recognition of bookings made by customers even when they paid for it. Additionally, refund of cancelled tickets that have not been made, technical errors, special services,  among others.
How to Complain
Airing your grievances to Emirates is fairly easy and straightforward. Emirates reservation desk on phone is available round the clock, should you need any changes or additions to your itinerary. Alternatively, you can locate an Emirates office nearest to your address from the link here and express your disillusionment in person. If either of it failed, you can use the contact form or Emirates' social media accounts to escalate to someone from the support. Emirates is found on Facebook, Twitter as well as Google+. Also feel free to share your complaint at the Customer Care Contacts dedicated page on Emirates customer service. Share your feedback and give voice to your grievances whether they be with regard to reservation, hotel/tour booking, missing miles, refund, cancellation, in-flight service, or lost baggage.