Contact of South African Airways customer service
Contact South African Airways: Find below customer service details of South African Airways, including phone and address. You can reach the below contact for new flight booking, cancellation, refund, baggage claim, cheap airfares, deals or other queries on South African Airways. Besides contact details the page also offers information and links on services of South African Airways.
South African Airways Reservation
Telephone: 0861 FLYSAA (0861 359722) (0861 606 606)
Telephone: **27 11 978 5313 (International)
USA – Reservations
Telephone: 1-800-722-9675
Fax: 1-954-769-5079
UK – Reservations
Telephone: 0871 722 1111*
Fax: 0845 409 4590
UAE – Reservations
Telephone: 04/ 3970 766
Fax: 04/ 3970 549
Customer Care
Email: [email protected]
Telephone: +27 11 978 2888
Fax: +27 11 978 1386
Cape Town Office
1st Floor
ICON building,
Cnr. Hans Strijdom and Long Streets
Cape Town
Telephone: 0861 606 606
Fax: 021 424 3777
Cargo: 021 936 3333
Reservation: 021 936 1111
Baggage Help: 011 978 3733
Cape Town International Airport
Phone: 011 978 1234 / 0860003145
Johannesburg Office
4 Chaplin Road
Cnr Melville Road
Illovo
Johannesburg
Telephone: +27 11 537 2001
Fax: +27 11 978 9414
Reservations: 011 978 1111
Customer Care: 011 978 2888
Cargo: 011 978 1119
Baggage Help: 011 978 3733
____
Flight Status
To check South African Airways flight status online click here
Check-In
You can check-in online 24 hours before flight departure. To check-in online go to the Manage My Trip page, enter your booking reference and surname and click the login button.
Baggage Information
Checked Baggage: First Class passengers can carry upto 40kg while Business Class can carry upto 30kg and Economy Class passengers can carry upto 23kg. For more details visit the website at www.flyssa.com
Carry-on Baggage: Business Class passengers can carry two pieces with 8kg each. Economy Class passengers can carry one piece with 8kg each.
Trace Lost Baggage
To trace lost baggage click here
Voyager
Voyager is a frequent flyer program of South African Airways. You earn miles every time you fly with South African Airways or its partner airlines. You also earn miles on car rental, hotels and health spa's. Voyager offers five Tier status levels – Blue, Silver, Gold, Platinum and Lifetime Platinum. The higher your membership status, the more privileges you can enjoy. Miles are valid for three years. As a Voyager member you also have a dedicated contact centre, priority check-in, excess baggage and lounge access across the world. To join click here
South African Airways Destinations
South African Airways flies to Accra, Lagos, Douala, Libreville, Kinshasa, Luanda, Walvis Bay, Cape Town, George, Port Elizabeth, Durban, East London, Maputo, Johannesburg, Windhoek, Gaborone, Victoria Falls, Lusaka, Harare, Lubumbashi, Blantyre, Pemba, Dar es Salaam, Nairobi, Kampala, Addis Ababa, Antananarivo, Mauritius, Jeddah, Cairo, Dubai, Mumbai, Kuala Lumpur, Singapore, Hong Kong, Perth, Sydney, Sao Paulo, Buenos Aires, New York and Washington.
About South African Airways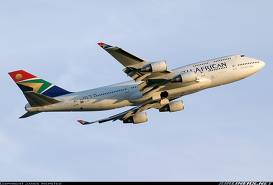 South African Airways was founded in the year 1934 and is the national carrier of South Africa. The airline operates from its main hub at OR Tambo International Airport and flies to over 36 destinations across the world. In 2006 South African Airways became a member of Star Alliance, a leading global airline network. Skytrax rates South African Airways as a four star airline. In 2009, South African Airways was awarded Africa's Leading Airline by World Travel Awards. Skytrax also named it Best Airline in Africa.