Contact Scandinavian Airlines: Phone, Address of Scandinavian Airlines
Contact Scandinavian Airlines: Find below customer care details of Scandinavian Airlines, including telephone and address. You can reach the below contact for new flight booking, cancellation, refund, baggage claim, cheap airfares, deals or other queries on Scandinavian Airlines. Besides contact details, the page also offers information and links on Scandinavian Airlines services.
Sandinavian Airlines Head Offices
Denmark
SAS Head Office
SAS Huset, Lufthavnsboulevarden 10
Postboks 150
DK-2770 Kastrup
Phone: +45 3232 0000
Norway
SAS Head Office
NO-1330 Fornebu
Phone: +47 64 81 6050
Sweden
SAS Head Office
Frösundaviks Allé 1
SE-195 87 Stockholm
Phone: +46 8 797 0000
Scandinavian Airlines Customer Care
Tel: +46 (0)8 – 797 5270
Denmark
SAS Customer Relations
Dept CPHSK
P.O.Box 150
2770 Kastrup
Denmark
Phone: +45 3232 5655 / +45 7010 2000
Fax: +45 3232 2595
Norway
SAS Customer Relations
Dept OSLSK
0080 Oslo
Norway
Phone: +47 6481 7700 / +47 915 – 05400
Fax: +47 6481 7877
Sweden
SAS Customer Relations
Dept STOSK
195 87 Stockholm
Sweden
Phone: +46 8 797 2727 / +46 8 797 4000
Fax: +46 8 797 2750
Asia Pacific
Scandinavian Airlines
Customer Relations
Dept BKKSN
8th fl., Glas Haus Bldg.
1, Sukhumvit 25 Road
Bangkok 10110
Thailand
Phone
+662 665 7171 /  +662 259 9091
United Kingdom
SAS Customer Service
World Business Centre
Newall Road
Hounslow Middlesex
TW6 2RE
Great Britain
Fax: +44 (0)208 990 7067
USA
SAS Customer Relations
9 Polito Avenue
Lyndhurst, NJ 07071
USA
Fax: +1 201 896 3735
EuroBonus (frequent flier program)
+45 7010 2000 (Denmark)
+47 915 05400 (Norway)
0770 – 727 727 (Sweden)
__________
Book Scandinavian Airlines Flight
To book a Scandinavian Airlines flight online click here
Flight Status
To check Scandinavian Airlines flight status online click here

Flight Schedule
To check Scandinavian flight schedule online click here
Online Check-in
To check-in online click here
Track Lost Baggage
To trace your lost baggage online click here
Baggage Information
Economy Class passengers can carry up to 1 bag with max 23 kg weight. Economy Extra passengers can carry 2 bags while Business passengers can carry 2 bags with max 32 kg. For cabin baggage, passengers are allowed to carry one piece with max 8kg.
EuroBonus
EuroBonus is the frequent flier program of Scandinavian Airlines. Members can earn reward miles every time they fly with Scandinavian or its partner airlines. Points are valid for 5 years. Membership levels include Basic, Silver and Gold. Call the customer care for more details.
About Scandinavian Airlines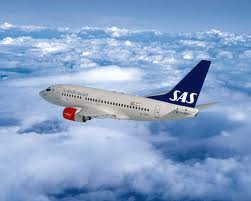 Scandinavian Airlines was founded in the year 1946. The airline is the national carrier of Denmark, Norway and Sweden and is also the largest airline in Scandinavia. The airline operates from its main hubs at Copenhagen Airport, Oslo Airport Gardermoen and Stockholm-Arlanda Airport. According to Wikipedia, Scandinavian Airlines is the ninth-largest airline in Europe. As a matter of fact, the airline was formed with the merger of Svensk Interkontinental Lufttrafik AB, Det Danske Luftfartselskab and Det Norske Luftfartselskap. The airline is a member of Star Alliance. It has codeshare agreements with several airlines among which are Adria Airways, Air Canada, Air China, Austrian Airways, bmi, Continental Airlines, Spanair, United Airlines, Lufthansa, Qantas and more.
Scandinavian Airlines Destinations: Scandinavian destinations include Aalborg, Aarhus, Alta, Amsterdam, Angelholm, Bangkok, Barcelona, Beijing, Berlin, Bodo, Brussels, Bucharest, Chicago, Copenhagen, Dubai, Dublin, Geneva, Gothenburg, Helsinki, Kalmar, Kiev, Kirkenes, Kristiansand, London, Lulea, Luxembourg, Madrid, Manchester, Milan, Moscow, Munich, New York, Nice, Oslo, Paris, Riga, Rome, St Petersburg, Tokyo, Turku, Vienna, Warsaw, Washington DC, Zurich and more.