Contact SanDisk: Customer service, phone of SanDisk worldwide
Contact SanDisk: Find below customer service details of SanDisk, including phone and address. You can reach the below contact for queries or complaints on SanDisk products / services, store locations, online shopping,  refund/cancellation, warranty, driver downloads or other questions. Besides contact details the page also offers information and links on SanDisk's products and services.
SanDisk Head Office
SanDisk Corporation
601 McCarthy Boulevard
Milpitas, CA 95035
United States
Phone: +1-408-801-1000
SanDisk Customer Service
Phone: 1-866-SANDISK (726-3475)
Phone: 1-866-270-5532 (for memory cards)
International Support
Below are customer service numbers of SanDisk worldwide. Reach the numbers for queries on SanDisk memory drives, readers or other products.
Australia: 1 800 262 504
Argentina: +54 1150314701
Brazil: 8008914506
China: 400 670 6071
France: 0800-907-929
Germany: 0800-183-0258
Hong Kong: 800-963-959
Italy: (39) 0245508473
India: 1800-102-2055
Israel: 972 37 21 96 16
Mexico: 525-546-240-134
Netherlands: (31) 208-081848
Norway: (31) 208-081848
Portugal: 0800-863-356
Russia: (7) 812-313-5832
S.Africa: 27-10-500-4709
Singapore: 800-130-1859
S.Korea: 00-308-13-1920
Spain: (34) 911-436-460
Taiwan: 00-8-01-147031
Turkey: (90) 2124141729
UAE: 8000178775
UK: 0808-234-9816
SanDisk Retailers
Click here to locate an authorized SanDisk retailer nearest to your address.
SanDisk Online Store
Click here to purchase a SanDisk product online from the website. Products that can be purchased include mobile cards (Mobile Ultra microSDXC, Mobile Ultra micro SDHC, micro SDHC & microSD cards, Memory Stick), music/video players (Sansa Clip Zip, Sansa Clip +, Sansa Fuze+), music cards, photo/video multiuse cards, USB flash drives (Cruzer Switch USB Drive, Cruzer Fit, SanDisk Ultra USB, Cruzer Edge, Cruzer Blade, Ultra Backup, XBOX 360 Flash Drive), solid state drives, memory vault, recovery softwares, and accessories and readers, among others.
Purchases can be made by American Express, Diners Club Card, Discover, JCB, MasterCard and Visa. If you dint know, SanDisk products can also be purchased from online stores of B&H, Best Buy, Buy.com, Glazer's Camera, ABE's of Maine, PCMall, newegg.com, pictureline, Photo Craft, Schiller's, TigerDirect, Unique Photo, and Samy's Camera.
Download Drivers
To download drivers for your SanDisk product whether for Digital Audio Player, FlashPath, Legacy Reader Drivers, OEM, Readers, SanDisk Photo Album, Sansa, USB Flash Drives or Wi-Fi Cards click here. Drivers can be downloaded by product type or even operating system.
Warranty Information
For warranty information and user guides for your SanDisk products click here.
About SanDisk Corporation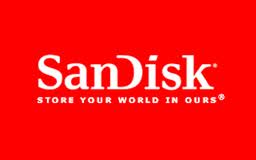 SanDisk was founded by Dr Eli Harari and Sanjay Mehrotra in the year 1988. A Fortune 500 company, SanDisk is the leading provider of flash memory storage solutions and embedded solutions used in smart phones, tablets, cameras and camcorders. For research and development alone, SanDisk in 2011 spent $547 million.
With $5.66 billion annual revenues in 2011, SanDisk has offer 250,000 storefronts worldwide, with operations spanning Europe, Asia-Pacific,  and Americas. It currently has offices in Israel, France, Germany, Ireland, Scotland, Spain, Sweden, Australia, China, India, Japan, Canada, USA, and more. Headquartered in California, US, SanDisk currently employs close to 4,000 people (as of 2011).
SanDisk currently has 3 NAND flash manufacturing plants operated in cooperation with Toshiba. Besides memory cards, SanDisk also manufactures USB flash drives, solid state drives, readers, music and video players, and offers softwares such as Cloud Catcher, Media Manager, Secure Access, among others. For more details visit the website or speak with a SanDisk customer service representative.