Contact of Qantas customer service
Contact Qantas Airways: Find below customer service details of Qantas airline, including phone and address. You can reach the below contact for new flight booking, cancellation, refund, baggage claim, cheap airfares, deals or other queries on Qantas Airways. Besides contact details the page also offers information and links on services of Qantas.
Qantas Airways Head Office
Qantas Centre,
Level 9, Bldg. A, 203 Coward St. Mascot,
New South Wales 2020
Australia
Phone +61 2 9691 3636
Fax +61 2 9691 3339
Customer Care Phone
(02) 9691 3636 / 13 13 13 within Australia or
+61 2 9691 3636 outside Australia
Arrivals and Departures
Phone: 13 12 23 (within Australia)
Customer Care Address
Customer Care
Qantas Airways Limited
Level 5 – Building A
203 Coward Street
Mascot NSW 2020
Fax
1800 613 844 within Australia or
+61 2 8222 4700 outside Australia
Reservations – USA Office
Phone: 1 800 227 4500
Reservations – UK Office
0845 7 747 767
+44 208 600 4300
Baggage Assistance
1300 306 980 (within Australia)
Frequent Flyer Contact
13 11 31 (Australia)
0845 7 747 100 (UK)
1 (800) 227 4220 (USA)
+61 (3) 9658 5302 (Worldwide)
_______
Flight Schedule
To check Qantas flight schedule online click here
Flight Status
To check Qantas flight status online click here
Baggage Information
Carry-on Baggage: Generally Qantas flights allow you to carry 2 bags with 7kg each.
Checked Baggage: On international flights you are allowed to carry bags with 23 kg while Business class passengers can carry upto 30 kg and first class upto 40 kg.
Check-In
Qantas Online Check-in is available for all Qantas and QantasLink domestic and international flights. To check-in online now and select your seat click here
For mobile check-in access qantas.com on your mobile phone and select 'domestic check-in' from the menu. This benefit is available only 24 hrs before your flight departure. You will receive your boarding pass via SMS.
Qantas Club
As a Qantas club member you get access to 130 airport lounges worldwide, get priority reservations and waitlisting, dedicated check-in and baggage allowances. Individual, Partner, Corporate and Guest Card are the four membership levels. To join the Club right now click here
Frequent Flyer
Qantas Frequent Flyer program allows you to earn miles every time you fly with Qantas and its partner airlines. You also earn miles with credit cards, hotel stays and car rentals. To join the frequent flier program click here
About Qantas Airways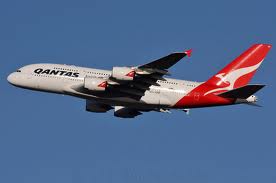 Qantas Airways was founded in the year 1920 and is the second oldest airline in the world. Registered originally as the Queensland and Northern Territory Aerial Services Limited (QANTAS), the airline operates from its main hubs at Sydney Airport and Melbourne Airport. As the national carrier of Australia and the largest airline in that country, Qantas flies to over 182 destinations in 44 countries including Asia, Europe, Middle East and Africa.
The airline currently employs over 32,000 people. Qantas Group has a low fares airline called Jetstar. The group together operates around 5,600 flights a week. As of 2010, the Qantas Group operated a fleet of 252 aircraft. Qantas is a founding member of the oneworld global airline alliance. The Qantas Frequent Flyer program has more than 7.2 million members and nearly 500 partners.
In fact Qantas has been listed by Skytrax in the top ten leading airlines for seven consecutive years. Skytrax has also named it a four star airline. The subsidiaries of Qantas Group include QantasLink, Q Catering, Qantas Freight and Express Ground Handling. Qantas has offices in Auckland in New Zealand, Noumea in New Caledonia, and Nadi and Suva in Fiji.
Destinations: Qantas airline destinations include South Africa, Mexico, Australia, Indonesia, Germany, Sweden, Lebanon, Canada, US, India, China, New Zealand, Japan, Hong Kong, South Korea, Taiwan, Thailand, Vietnam, Italy, France, Poland, Spain, Austria, Switzerland, London, Bahrain, Jordan, Brisbane, Jakarta, Taipei, Tokyo, Manchester and Bahrain.