Contact of Shanghai Disneyland (phone, address)
Contact Shanghai Disneyland: Find below customer service details of Shanghai Disneyland, China, including phone and email. Besides contact details, the page also offers a brief overview of the theme park.
Address
Shanghai Disneyland
West Shendi Rd.
Pudong New District,
Shanghai, 201205
Customer Service
Phone: 400-180-0000
Phone: +86-21-3158-0000
____
About Shanghai Disneyland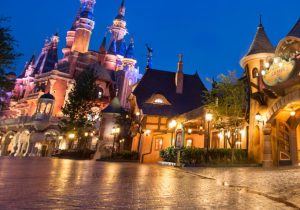 Shanghai Disneyland is a popular tourist attraction in Shanghai, China. The theme park was opened in 2016 and is operated by the Shanghai Shendi Group and The Walt Disney Company. Opened from 9am to 8pm, the park is located within the Shanghai Disney Resort.
Popular attractions include Camp Discovery, Disney Jungle Characters, Roaring Rapids, Soaring Over The Horizon, Alice in Wonderland Maze, Enchanted Storybook Castle, Hunny Pot Spin, Peter Pan's Flight, Seven Dwarfs Mine Train, Dumbo the Flying Elephant, Fantasia Carousel, Marvel Universe, Minnie Mouse and Friends, Jet Packs, Star Wars Launch Bay, Stitch Encounter, Explorer Canoes, Shipwreck Shore and Siren's Revenge.
There are also a number of outdoor and indoor entertainment options. You can browse the website for details, timings and schedule. As for dining, you can find full dining restaurants or cafes for quick bites. Options include Aurora, Bacchus Lounge, Ballet Cafe, Barbossa's Bounty, The Boathouse, BreadTalk, The Cheesecake Factory, Coconut Paradise, The Dining Room, Element Fresh, Merlin's Magic Recipe, Picnic Basket, Piranha Bites, Starbucks Coffee, Toast Box, Tribal Table, Troubadour Treats and Xin Wang.
Visitors can reach the Shanghai Disney Resort through bus, taxi, or metro. You can visit the Guest Services for assistance or special services for those with disabilities. Tickets can be purchased at the entrance or online using major credit cards. You can choose from between 1-Day and 2-Day tickets. The tickets are nonrefundable. If you are planning a longer vacation, you can stay at the Shanghai Disney Resort.