Contact of Royal Bhutan Police support (phone, address)
Contact Royal Bhutan Police: Find below support details of Royal Bhutan Police, including phone and email. Besides contact details, the page also offers a brief overview of the law enforcement agency.
Head Office
Royal Bhutan Police
Dzogchhen Lam, Thimphu,
Bhutan
Support
Phone: 113 (crime)
Phone: 111 (traffic)
Phone: 02-322347/322348 (HQ)
Divisions
Phone: 08 – 271229 (Paro)
Phone: 02 – 584151 (Punakha)
Phone: 05 – 252256 (Phuntsholing)
Phone: 05 – 365216 (Samtse)
Phone: 06 – 251056 (Gelephu)
Phone: 06 – 471113 (Tsirang)
Phone: 03 – 521113 (Trongsa)
Phone: 07 – 251156 (Samdrup Jongkhar)
Phone: 04 – 521113 (Trashigang)
Phone: 04 – 641641 (Mongar)
Phone: 02 – 322410 (Thimpu)
Phone: 02 – 481935 (Wangdue)
Phone: 03 – 631321 (Bumthang)
____
About Royal Bhutan Police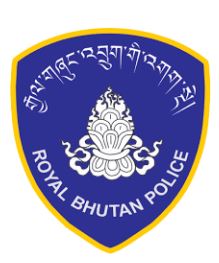 The Royal Bhutan Police is the national law enforcement agency in Bhutan, founded in 1951. Managed by the Ministry of Home and Cultural Affairs of the Royal Government of Bhutan, the civil agency operates from its headquarters at Thimpu. The force is headed by the Chief of Police, under whom comes the Additional and Deputy Chiefs of Police, Senior Superintendents, Commissioned Officers and Constables.
The operations of the Royal Bhutan Police are managed through a number of regional divisions like Paro, Punakha, Phuntshoing, Samtse, Gelephu, Tsirang, Trongsa, Samdrupjongkhar, Trashigang, Mongar, Thimphu, Wangdue and Bumthang. Within the agency, exist special branches, administrative branches, crime/operations branch and the investigation bureau.
The Crime & Operations branch is responsible for prevention of crime and maintaining law and order in the country. The functions within this branch is divided between the Crime Prevention Unit, Fingerprints Unit, Cyber Crime Unit, Woman and Child Protection Division and Crime Records and Analysis Unit.
Another key division is the Traffic unit which manages the traffic, checks accidents and plans traffic safety regulations. Traffic related queries can be communicated through phone by dialing the emergency number. With regard to reporting a crime or other assistance, residents can visit nearest police station. During emergency, you can simply dial the helpline to get support. Looking for job opportunities? Royal Bhutan Police regularly posts job recruitment and open vacancies on the website and local newspapers.