Contact of Epson India customer care (phone, address)
Epson India Contact: Find below customer care, support details of Epson in India, including phone and address. You can reach the below contact for queries on Epson products whether printers, scanners, projectors, TVs or other consumer products. In addition, you can enquire on Epson stores, product warranty or service centers in India
Epson India Head Office
12th Floor, The Millenia,
Tower A, No. 1,
Murphy Road, Ulsoor,
Bangalore – 560008
Phone: 080 3051 5000
Epson India Customer Care
Phone: 1-800-425 0011 (BSNL lines)
Phone: 3900 1600 (prefix city code)
Epson Service Centre
Phone: 1860 3000 1600 (for service related queries of Epson products)
Epson Regional Offices
Bangalore: 080 3051 5000
Chennai: 044 3027 7500
Cochin: 0484 4012 315
Delhi: 011 4658 5444
Hyderabad: 040 4035 9898
Kolkata: 033 2283 1589
Mumbai: 022 2826 1515
_______
Download Drivers/Software
To download drivers or softwares for your Epson product whether printers, scanners or projectors click here. You can find your product by selecting the category and model. Categories mentioned include Inkjet, Laser, Large Format, Dot Matrix, Point of Sale System, Scanners, Projectors and Mini Printer Mechanism.
About Epson India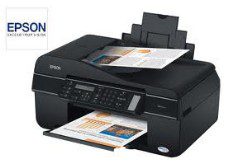 Epson India Pvt Ltd was established in the year 2000. A subsidiary of Epson Singapore Pte Ltd, the company manufactures and sells imaging devices such as inkjet printers, dot matrix printers, lasers, scanners, and LCD projectors. Epson also manufactures Systems & Crystal Devices, Integrated Circuits, Optical products, factory automation systems and watches.
Epson India presently has some 169 service centers covering 134 cities. The company's vision is to be "recognised as the leader in the digital imaging domains". Epson India is headquartered in Bangalore. Part of the Japan-based Seiko Epson Corporation, the company employs over 70,000 people around the world. Epson has manufacturing and development facilities in 29 locations. In 2009, Epson had net sales of ¥985,300 million.
Epson products currently found in the Indian market include printers (inkjet, laser, large format, dot matrix), scanners, projectors, point-of-sale systems, industrial printing, among others. Electronic devices business comprises the quartz device business, and the semiconductor business.