Contact of Dunkin' Donuts customer service (phone, address)
Contact Dunkin' Donuts: Find below customer service details of Dunkin' Donuts, including phone and address. You can reach the below contact for queries or complaints on Dunkin' Donuts services, stores, office locations, franchise queries or other questions. Besides contact details the page also offers information on Dunkin' Donuts services.
Dunkin' Donuts Head Office
Dunkin' Brands
130 Royall Street
Canton, Massachusetts 02021
United States
Phone: 781-737-3000
Dunkin' Donuts Customer Service
Phone: 1-800-859-5339 (general)
Phone: 1-877-833-2633 (online orders)
Phone: 1-877-8DD-COFFEE (coffee subscriptions)
_______
Dunkin' Donuts Locations
Click here to locate a Dunkin' Donuts store nearest to your address. Searches can be made by city, state or zip code. Results could also filtered by selecting to show only restaurants with 24 Hour Service, Drive-Thru, K-Cup or Baskin-Robbins.
Online Shop
Click here to visit the online shop of Dunkin' Donuts to order packets of coffee/tea, coffee equipment, apparel or coffee subscriptions. Purchases can be made by American Express, Discover, MasterCard, and Visa. If you are not satisfied with the product or merchandise received, you can return it within 45 days for credit or replacement product. Orders are generally shipped within 2 business days via UPS or US Mail.
DD Perks Rewards
Enroll in Dunkin' Perks Rewards to pay for all your Dunkin' favourites, for auto-recharge, or to simply give it as a gift. To register click here.
About Dunkin' Donuts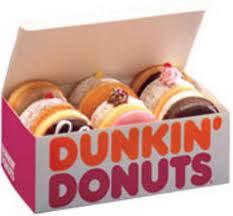 Dunkin' Donuts was founded by Bill Rosenberg in the year 1950. With over 10,000 stores worldwide, Dunkin' Donuts has grown to become a leading baked goods and coffee chain. Each day Dunkin' brands serve more than 3 million people. The donut and coffee chain had sales of $6 billion in 2010.
Dunkin' Donuts currently has some 2,600 stores in over 30 countries. As of 2011, it has its presence in Bahamas, Bulgaria, Canada, China, Colombia, Germany, Indonesia, India, Korea, Lebanon, Oman, Peru, Puerto Rico, Philippines, Russia, Spain, Taiwan and UAE.
The Dunkin' Donuts menu generally contain over 52 varieties of donuts. The Dunkin' restaurants also sell bagels, sandwiches, cookies, danishes, muffins, wraps, hot coffee/tea, iced beverages, among others. Headquartered in Canton, Massachusetts, Dunkin' Donuts is a wholly managed subsidiary of Dunkin' Brands Group.