Contact Kodak: Customer service, phone numbers of Kodak
Contact Kodak: Find below customer service details of Kodak (Eastman Kodak Company), including phone and address. You can reach the below contact for queries on Kodak digital cameras and frames, softwares, drivers, printers, online gallery, service center locations or other questions. Besides contact details, the page also offers information and links on Kodak products and services.
Kodak Head Office
Eastman Kodak Company
343 State Street
Rochester, NY 14650 USA
Phone: +1-800-944-6171
Kodak Customer Service
Reach the below contact for queries or support on Kodak accessories, AiO printers, digital frames, digital cameras, digital video, projectors, scanners and software
Phone: 1-888-368-6600 (new orders)
Phone: 1-800-235-6325 (technical support)
Aerial Imaging
Support for aerial films, Circuit Boards, Surveillance, Data Recording, Optical Display Films..
Phone: 800-535-4633
Email: [email protected]
Business Services & Support
Support for scanners, Micrographics, Reference Archive, Mail Processing
Phone: 1-800–22-KODAK
Phone: 1-800-822-1414 (technical help)
Phone: 1-800-356-3253 (display help)
Document Imaging
Phone: 1-800-944-6171
Graphics Communications
Support for NexPress, VersaMark, Unified Workflow Solutions, Proofing, Digital and Offset Output..
Phone: 1-866-563-2533
Image Sensor Solutions
Phone: 585 722-4385
Kodak Gallery
Online digital photo developing service
Phone: 1-800-347-9913
Kodak Online Store
Phone: 1-888-368-6600
International Contacts
Below are phone numbers of Kodak offices worldwide. Reach the numbers for queries on consumer products, technical support or other questions.
Africa: 09-44-131-458-6714
Australia: 1800 267 588
Austria: 0179-567-357
Belgium: 02-713-14-45
Brazil: 0-800-891-4213
Canada: 1-800-465-6325
China: 800-820-6027
Czech Rep: 00-800-KODAK-000
Denmark: 3-848-71-30
Finland: 0800-1-17056
France: 01-55-1740-77
Germany: 069-5007-0035
Greece: 00 800 44140775
Hong Kong: 800-901514
India: 1800 102 3635
Indonesia: 001 803 852 9634
Ireland: 01-407-3054
Italy: 02 696 334 52
Latin America: 1-305-507-5600
Malaysia: 603-5032 0288
Mexico: 01 800 288 5632
Netherlands: 020 346 9372
New Zealand: 0800 880 120
Norway: 23-16-21-33
Pakistan: +971 4 344 4910
Philippines: 1 800 1 441 0178
Portugal: 021-415-4125
Russia: +7-(495)-620-91-67
Singapore: 1800 4155184
S.Africa: 0800 056325
Spain: 917497653
Sweden: 08-587-704-21
Switzerland: 044 838 5351
Turkey: 216 581 5858
UAE: +971 4 344 4910
UK: 0870-243027
_______

Kodak Online Store
Click here to access the online store of Kodak. You can purchase here digital cameras, all-in-one printers, digital video cameras, digital frames, photo prints printing supplies, accessories and much more. Kodak accepts MasterCard, Visa, American Express, Discover Card, JCB, Debit Cards, and PayPal. Kodak's online store offers a standard 30-day return policy.
Some of the digital cameras found on the store include Easyshare Max Camera, Slice Touchscreen Camera, Easyshare Touch series and more. Accessories include memory cards, reader, batteries, chargers, bags, cases, straps, tripods, AC adapters, lenses, and cables. You can also find digital frames, digital video cameras (Playsport, Playtouch, Mini HD, Playfull), all-in-one printers (Hero, ESP) and scanners.
The shipping options for orders include Standard Ground, Second Day Afternoon, Next Day Afternoon and Military APO/FPO. A pre-order can be cancelled at any time prior to when order is available to ship
Kodak Downloads & Drivers
To download drivers for Kodak products click here.
Kodak Manuals
To read manuals for any Kodak product click here.
About Eastman Kodak Company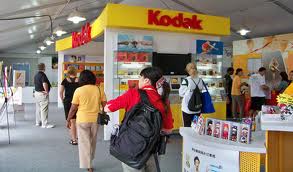 Eastman Kodak Company, popularly known as Kodak, was founded by George Eastman in the year 1880. Headquartered in Rochester, New York, Kodak in 2010 had revenue of $ 7,187 million. The world leader in imaging currently employs some 19,000 people worldwide. Kodak as a matter of fact has manufacturing operations in North and South America, Europe, and Asia. Its products are used by consumers, businesses and creative professionals all over the world.
Kodak's products and services span digital still and video cameras, consumer inkjet printers, digital picture frames, retail printing kiosks, APEX drylab systems, KODAK Gallery online imagine services, imaging sensors, prepress sensors and equipment, workflow software, electrophotographic printing equipment, commercial inkjet printing equipment and consumables, document scanners, business process services, origination and print films, consumer and photographic film, photographic paper and processing chemicals, and industrial materials such as film for production of printed circuit boards.
At least 30% of Kodak's revenue is generated from sales of digital capture and devices. For research and development the company in 2010 spent $321 million. Besides several cities in US, the multinational corporation has R&D wings in Canada, England, Israel, Germany, Japan, China and Singapore.
Talking of some of its firsts, Kodak invented the first megapixel sensor. The first colour filter tray, and the world's first digital camera was also developed at the Kodak Labs. However, the first simple camera that came from Kodak was in the year 1888. Further, Kodachrome film was invented in the 1930s by classical musicians. In 1937, the first electronic scanner for graphic arts was developed in the Kodak labs. In 1987,  Kodak researchers invented OLED (Organic Light-Emitting Diode) technology.