Contact Haier: Customer service, phone for Haier products worldwide
Contact Haier : Find below customer service, support details of Haier, including phone and address. You can reach the below contact for queries on Haier products whether washing machines, LCD/LED televisions, refrigerators, air conditioners, dishwashers, ovens or other consumer products. In addition, you can also enquire on Haier stores, product warranty or service centers for repair. Besides contact details, the page also offers information and links on Haier services.
Haier Head Office (USA)
Haier Building,
1356 Broadway New York,
NY 10018, United States
Haier Customer Service
Phone: 1-877-337-3639
Phone: 1-866-814-3633 (warranty claims)
Phone: 1-800-461-8890 (returns department)
International Contacts
Below are numbers of Haier offices around the world. Reach these numbers for queries on Haier products, locations, warranty or service centers.

Australia: 1300 729 948
China: 4006-999-999
France: 0980 406 409
Germany: 0180 539 39 99
India: 1800-200-9999
Italy: 199-100-912
Japan: 542-0012
Malaysia: 1800 88 6666
Middle East: +962 6 5371850
New Zealand: 0800 372 273
Russia: +7 (495) 782-10-20
Spain: 902 503 330
Thailand: 1-800-788-888
UK: 0845-025-3025
______
Haier Product Registration
Register your Haier product here. From headphones, LCD HDTV to small appliances like air conditioners, dishwashers, refrigerators and washing machines can be registered with the model number and date of purchase.
About Haier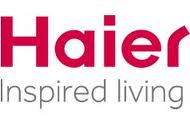 Haier was founded as Qingdao Refrigerator Co. in the year 1984. Haier, which was a joint venture between Qingdao and Germany's Liebherr Group, is today a leading consumer electronics and home appliances brand. The company employs more than 70,000 people around the world. Headquartered at Qingdao, Shandong province, in China, Haier distributes products in more than 165 countries and had revenue of $20.7 billion in 2010. Incidentally, Haier is also China's largest home appliance brand.
Haier began operations in US in the year 1999. Since its expansion in the Americas, the company has sold over 40 million products in the region alone. In the US, Haier is based in New York's landmark Haier Building. The Chinese corporation in fact is the Official Marketing Partner of the NBA.
Haier products include refrigerators, freezers, washers and dryers, dishwashers, microwaves, hoods/ventilation, ice makers, portable AC, dehumidifiers, HVAC, television (LCD/LED TVs), soundbars, docking systems, beverage centers, water dispensers and more.
Presently, Haier has 29 manufacturing bases and 16 industrial parks in the US, Europe, Asia, the Middle East and Africa. Haier Group's subsidiaries include Haier Electronics Group Co and Qingdao Haier Co.
In 2010, Haier was ranked 28th in the world's "50 most innovative companies" ranking by Bloomberg and BusinessWeek. Further, Euromonitor International 2011 has ranked Haier as world's #1 major appliance brand.