Contact eBay: Customer service, support of eBay.com
Contact eBay: Find below customer care details of eBay shopping portal, including phone and address. You can reach the below contact for queries on eBay products, deals, claims, damage, refund, or even on eBay's Kindle. Besides contact details the page also offers information and links on products of eBay.
eBay Inc. Head Office
Whitman Campus
2065 Hamilton Avenue
San Jose, California 95125
USA
Phone
1-800-322-9266
1-408-376-7400
1-408-376-7401 (fax)
eBay Park North
2211 North First Street
San Jose, CA 95131
eBay Customer Care Phone
1-866-540-3229 (toll free)
1-800-322-9266 (toll free)
1-408-376-7517 (fax)
1-801-545-1853 (eBay Accounts related)
eBay UK Contact
0700 500 3229
0906 665 8030
Address
eBay (UK) LTD,
P.O. Box 9473
Dublin 15
Ireland
eBay Email Contact
[email protected] (Report Phishing Emails/Websites)
[email protected] (eBay Executive Relations)
[email protected] (Reach eBay President)
Resolution Center
Have a problem? Resolve it online by visiting the eBay resolution center here
___________
eBay Payment Options
Some of the eBay payment options available are PayPal, Bill Me Later, credit card, debit card, Moneybookers, Paymate, ProPay, Pay upon pickup and Escrow. Checks, money orders, and bank wire transfers aren't allowed for most eBay purchases.
Track your purchases
You can keep track of your purchases on My eBay. After you register, you'll get your own My eBay page.
eBay Stores
To visit eBay stores click here
eBay Store Categories
eBay store categories include antiques, art, baby, books, business, cameras, cars, boats, cell phones, clothing, shoes, coins, collectibles, computers, consumer electronics, crafts, dvds/movies, dolls, gift cards, health/beauty, home/garden, jewelry, music, musical instruments, pet supplies, real estate, sporting goods, stamps, video games, toys and more.
To view eBay 'fashion' related products click here
To view eBay 'motors' related products click here
eBay Deals
For hot eBay deals click here
Sell on eBay
To sell an item on eBay click here
About eBay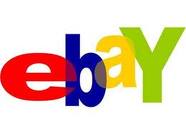 eBay was founded by Pierre Omidyar in the year 1995. Initially it was called Auction Web until 1997 when it was named eBay. eBay today is a leading multi-million dollar online auction and shopping website. The largest online marketplace has more than 94 million active users across the world. Currently, eBay is hosting more than 200,000 auctions per month. In 2003, eBay was listed at #8 on Fortune's list of Fastest Growing Companies. In 2010, the total worth of goods sold on eBay was $62 billion.
eBay has expanded internationally with sites in the United Kingdom, Australia, Germany, China, France, Greece, Hong Kong, India, Ireland, Italy, Korea, Malaysia, Mexico, Netherlands, New Zealand, Norway, Philippines, Poland, Portugal, Russia, Singapore, Spain, Sweden, Switzerland, Taiwan, Thailand, Turkey, Argentina, Brazil, Canada, Belgium and Vietnam.