Contact of China Eastern Airlines customer service
Contact China Eastern Airlines: Find below customer care details of China Eastern Airlines, including phone and address. You can reach the below contact for new flight booking, cancellation, refund, baggage claim, cheap airfares, deals or other queries on China Eastern Airlines. Besides contact details the page also offers information and links on services of China Eastern Airlines.
China Eastern Head Office
2550 Hong Qiao Road
Hong Qiao International Airport
Shanghai, 200335
China
China Eastern Customer Care
+86 21 95530 (China)
1-888-359-5108 (USA)
+44 121 281 3380 (UK)
Email China Eastern
[email protected]
International Offices
Paris +33 144 86 03 00
London +44 207 935 2676
Frankfurt +49 69 133 8930
Moscow +7 495 935 8828
Los Angeles +1 626 5831500
New York +1 212 6858685
Vancouver +1 604 6898998
Bangkok 00662-636-6980
Brussels 032-2-5028270
Busan 82-51-740-6088
Frankfurt 49-69-133-8930
Fukuoka 092-262-2000
Fukushima 0081-2409276688
Hiroshima 082-245-6623
Ho Chi Minh 008490-8834618
Kuala Lumpur 0060?3?21611666
Madrid 0034-91-5599889
Melbourne 0061-3-8635-1000
Moscow 007-495-9358828
Munich 0049-89-2103860
Nagasaki 095-828-1510
New Delhi 0091-11-43513166
Osaka 06-6448-5161
Paris 0033-?0?144860300
Seoul 82-2-518-0330
Singapore 65-62223456
Sydney 061-2-9290-1148
Tokyo 03-3506-1166
China Offices
Beijing 010-64681166
Chengdu 0028-86113276
Changsha 0731-4463638
Dalian 0411-82828266-700/800
Hefei 0551-2822357
Hangzhou 0571-87016688
Haikou 0898-66521367
Jinan 0531-87964445,0531-86077794
Kunming 0871-3121223
Nanjing 0025-99869986
Qingdao 0532-85735555
Shanghai 021-95530
Tianjin 022-24901985
Xiamen 0592-5206777
_________
Eastern Miles
Eastern Miles is the frequent flier program of China Eastern Airlines. You can earn reward miles every time you fly with China Eastern Airlines or its partner airlines. To join the program or for more details click here
China Eastern Destinations
China Eastern destinations include Chicago, New York, Dallas, Los Angeles, San Francisco, Vancouver, Fukushima, Nigata, Tokyo, Nagoya, Osaka, Okayama, Okinawa, Fukuoka, Seoul, Cheju, Nagasaki, Sapporo, Taipei, Ho Chi Minh, Sydney, Melbourne, Hong Kong, Macau, Kunming, Bangkok, Phuket, Kuala Lumpur, New Delhi, Singapore, Paris, London, Frankfurt, Moscow, Madrid and more.
About China Eastern Airlines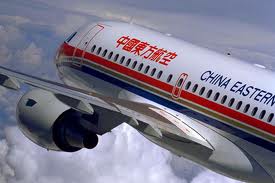 China Eastern Airlines was founded in the year 1988. The airline is China's second largest and one of the world's biggest. China Eastern Airlines operates from its hubs at Kunming Wujiaba International Airport, Shanghai Hongqiao International Airport, Shanghai Pudong International Airport and Xi'an Xianyang International Airport. Currently, the airline flies to about 104 destinations including North America and Australia. China Eastern, according to one source, carried about 64 million passengers in the year 2010. Majority stake in the airline company is held by the Chinese government. In 2010, China Eastern merged with Shanghai Airlines, making the latter its wholly owned subsidiary.